您的位置: 联合资源分享 → 软件 → 应用软件 → 软件信息
塔多思 2009 翻译软件
中文名: 塔多思 2009 翻译软件英文名: SDL Products 2009资源格式: 光盘镜像版本: trados 2009发行时间: 2009年6月制作发行: 德国塔多思(TRADOS)地区: 德国语言: 英文简介:
塔多思Trados 2009 最强的翻译软件
目前在全球翻译记忆 市场上,德国塔多思(TRADOS)处于绝对领先地位,其核心产品Translator's Workbench(翻译工作平台)直接和微软Word集成,界面友好,此外还有强大的网络共享、术语管理、翻译项目管理,以及格式转换处理功能,为专业翻译领域提供了一整套解决方案。
本软件包是从hotfile上下载的 下载解压后里面有这几个文件夹
1.SDL Trados Studio Pro 2009 SP1
2.SDL Multiterm Desktop 2009 SP1
3.SDL Trados 2007 Suite Pro SP3
4.FLEXnet License Server 2009
5.License
6.说明书
我自己将其压缩为ISO镜像 以便上传下载
不过说明是波兰语的 好像是有破解方法 不过我不会波兰语 就不知道怎么搞了
我个人没有安装过 不知道怎么样 各位想尝鲜的可以下载安装试试看
本软件经过卡巴斯基2010扫描 安全无病毒
通过 卡巴2010 杀毒测试 放心下载
白天不定供源,可能有点慢,请驴友放心,绝对长期有源
[免责声明]
该下载内容仅限於个人测试学习之用,不得用於商业用途,并且请在下载后24小时内删除。
资源版权归作者及其公司所有,如果你喜欢,请购买正版。
以下是英语的介绍
Year: 2009
Version:
Trados - 9.1.1066
MultiTerm - 8.1.1107
Developer: SDL plc.
Platform: PC Win-32
Compatibility with Vista: complete
Compatible with Windows 7: complete
System requirements for optimal performance SDL Trados:
CPU: Intel Pentium IV (recommended Intel Pentium Dual Core)
RAM: 1 GB (recommended 2 GB)
HDD: 1.2 GB
Recommended screen resolution: 1280x1024
Software:
Windows XP SP2 or higher
Windows Vista SP1 or higher
Related software:
MS Office 2003 or MS Office 2007
Internet Explorer 6 or above
Language: English only
Medicine: Yes
Innovative features and open platform SDL Trados can significantly increase productivity and optimize efficiency at all stages of translation.
The main functions of SDL Trados Studio 2009 Professional:
- Formation of a single base translation (Translation Memory or TM);
- Preliminary analysis and detailed reports to translate the files;
- Automatic batch processing of files: analysis, preliminary translation, cleaning;
- Integration with MultiTerm terminology database for interactive identification of terminology;
- Transfer of files in the formats DOC, Power Point, Excel, HTML and many others;
- Integration of previously translated documents in order to create an initial database of TM;
- Quality control - functions that let you significantly reduce the time post-editing.
Working with Translation Memory
Formation of translation memory (Translation Memory or TM), in which the translations are stored as they perform. As a result, did not want to repeatedly transfer the same proposal, on the contrary, if necessary, you can re-use previously translated text fragments.
Collective access to a centralized translation memory within the local network provides a coherent group of translators working on projects.
Translation Memory editing interface allows you to save valuable linguistic resources intact, quickly make global changes to the content and use advanced search function.
Recognition MultiTerm terminology
Integrated interface SDL MultiTerm provides unity of terminology and style. Search terms, their use and editing, as well as terminology management is carried out directly in the translation SDL Trados.
SDL PerfectMatch technology
SDL PerfectMatch technology distinguishes the 100th match for their relevance to the specific context and guarantees the use of a translation project is only those who fully comply with the required context. Eliminates the need to verify the 100th match. This feature reduces editing time for days, especially in the case of a final quality check within large projects. Consequently, the decrease and the cost of editing.
A variety of reports, for example, the analysis file, a preliminary translation, SDL PerfectMatch, etc. allow to analyze the full range of information available and assess the advantages of using databases of translations. Reports can be exported and saved in HTML, XML and Microsoft 庐 Excel 庐.
Quality
Powerful tools, quality control and allow the identification of spelling errors directly when entering text.
Tool WinAlign allows a new use of previously translated material and quickly form a new translation memory by combining the previously transferred files with the equivalent source files.
PRODUCT FEATURES
New level of performance SDL Trados
RevleX 聂 - a new platform Translation Memory based on XML. Allows you to significantly reduce the time translation by exploring several Translation Memory and the basic features such as Context Match and AutoPropagation:
- Context Match - defines the location of the segment in the document and its context. Used to optimize the substitution of 100% matches from Translation Memory and improve the quality of translation.
- AutoPropagation - with the help of this function is automatically translated into all repeated segments, which also increases the speed of work.
- Search function for several Translation Memory maximizes the possibility of using existing content.
Function Auto Suggest 聂 offers intelligent convergence within the segment directly in the text input.
Real-time Preview - the preview in real time allows you to view the document in final format for delivery time.
Not containing tags editing environment allows the interpreter to focus on the translation process.
Enhanced search inexact matches in the database Translation Memory - Concordance: Now searching in segments can be performed both at the source and the target language.
QuickPlace 聂 - a simplified transfer formatting tags and other elements from the original text.
Filter, which provides the ability to work with files PDF.
Expanding the list of supported formats including XML, Adobe 庐 FrameMaker 庐 and InDesign 庐
Integration of SDL Trados
Single integrated environment for translation, editing and project management. Configuration Tools, the new interface allows you to change it to suit individual requirements.
Open platform
Using open industry standards makes it easy to exchange files, memory translation (Translation Memory) and terminology databases. Implemented support for XLIFF (cross-platform file format for translation), TMX (Translation database exchange format) and TBX (the format of the exchange of terminological databases).
The kit also includes SDL Trados Suite Pro 2007 SP3. Need for correct operation of some functions, version 2009. In contrast to the existing version here, the medicine is fully operational, without changing any settings on your computer, and distributor of full copy of the original, too, without any changes.
破解方法
经我研究一晚上 在Windows 7中成功安装并破解了
以下是我的安装方法
1 安装SDL Trados 2007 Suite Pro SP3\Products\SDLTrados2007Professional中的setup.exe 安装完成后 进行破解 接下来安装SDL Trados 2007 Suite Pro SP3中CRK.exe程序 点击前面一个选项 不过你要把破解盘符改为你电脑中程序的安装盘符 安装完成之后打开你的软件 打开帮助栏中的 选择许可证管理器 导入许可证文件license文件夹中的nodelocked.lic 这个许可文件要放到一个固定的地方 不能随便删除或移动。导入许可文件成功之后 你会发现 你已经破解成功了
2. 安装SDLMultiTermDesktop2009SP1.exe程序 安装完成后打开相同文件夹中的Crk文件夹中的破解程序 进行破解 安装完成后 导入上面一样的许可文件 此软件到此也破解成功
3.安装SDLTradosStudio2009SP1.exe 程序 安装完成后打开相同文件夹中的Crk文件夹中的破解程序 进行破解 安装完成后 导入上面一样的许可文件 此软件到此也破解成功
记住 一定要用 nodelocked.lic 这个许可文件 我导入另一个许可文件时候 没有破解成功
这三个软件我都是导入这个许可软件才成功破解的
破解之后 打开各个软件 在帮助栏中打开许可证管理器 弹出的窗口
会显示一下内容 Available licenses:
Translator's Workbench - Machine Translation, Version 9.0
ts_as_create, Version 9.0
MultiTerm Desktop, Version 9.0
WinAlign, Version 9.0
ts_allow_dc, Version 9.0
S-Tagger for Interleaf, Version 9.0
ts_unltd_langs, Version 9.0
Context TM API, Version 9.0
ts_custom_task, Version 9.0
Japanese UI for WinAlign, Version 9.0
ts_mt_enabled, Version 9.0
Japanese UI for TagEditor, Version 9.0
tstudio, Version 9.0
TagEditor, Version 9.0
ts_pkg_create, Version 9.0
ts_unltd_batch, Version 9.0
S-Tagger for FrameMaker, Version 9.0
Japanese UI for Translator's Workbench, Version 9.0
Translator's Workbench/SDLX, Version 9.0
Synergy Client, Version 9.0
MultiTerm Extract, Version 9.0
Japanese UI for MultiTerm Extract, Version 9.0
MultiTerm Server, Version 9.0
MultiTerm Server - Maximum number of simultaneous users, Version 9.0
MultiTerm Server - Maximum number of simultaneous editors, Version 9.0
MultiTerm Team, Version 9.0
T-Window for PowerPoint, Version 9.0
T-Window for Excel, Version 9.0
T-Window for Resources, Version 9.0
T-Window for Clipboard, Version 9.0
T-Window for Executables, Version 9.0
Generic Tag Verifier (plug-in), Version 9.0
S-Tag Verifier (plug-in), Version 9.0
XML Validator (plug-in), Version 9.0
WinAlign Core API, Version 9.0
TRADOStag Viewer (plug-in), Version 9.0
Translation Memory File Services API, Version 9.0
Japanese UI for Translation Memory File Services API, Version 9.0
Translation Memory Access API, Version 9.0
TM Server, Version 9.0 ( Unlimited TU's
TM Server Manager API, Version 9.0
Author Assistant Client, Version 9.0
Author Assistant Client - Server, Version 9.0
Author Assistant Client - Linguistic Brain, Version 9.0
也就是破解成功了
不知道各位怎么样呢
本来想截图发上来的 但是不知道怎么发图片 各位先按照上面的试验下
不行的话 再进行探讨 不好意思了
破解成功的话 就可以进行工作了……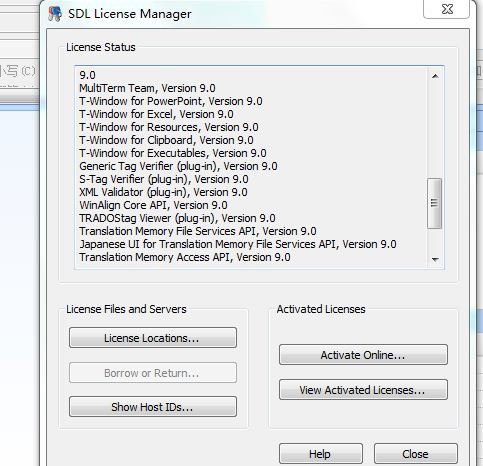 ·上一书籍:
X特攻队:性与暴力
·下一书籍:
Could You Believe