您的位置: 联合资源分享 → 软件 → 多媒体类 → 软件信息
Heavyocity Evolve
中文名: Heavyocity.Evolve英文名: Heavyocity.Evolve别名: 顶级电影电视配乐打击、电子音色资源格式: 光盘镜像版本: 1.0发行时间: 2009年07月01日制作发行: heavyocity地区: 美国语言: 英文简介:
已通过安全检测:卡巴斯基反病毒软件8.0.0.506(中文版)
[已通过安装测试]WinVsita x32 x64
软件版权归原作者及原软件公司所有,如果你喜欢,请购买正版软件
共享时间:24小时开机(除适当维修)
此公司只有这一款音色
音色极佳。许多美剧配乐里都有他的身影
如越狱等。
官方网址:http://www.heavyocity.com/
Find your signature and EVOLVE! - Get ready to enter the next generation in modern virtual instruments. Created by the TV and videogame composers of Heavy Melody Music Sound Design, EVOLVE supercharges creativity while streamlining productivity for modern composers and sound designers. With an emphasis on the dramatic, EVOLVE doesn't just contain the typical instruments and sounds that form the foundation of most composer setups. Instead, it accentuates them with a powerful combination of diverse rhythmic percussion and evocative tonalities in ways that have never been heard before. Whether it's an epic feature film score or a chart-topping remix, EVOLVE is sure to become a Go To resource to add depth and dimension to any project.
What people in the industry are saying about EVOLVE:
What you guys delivered is completely different. Nothing sounds like this. The sounds seem perfect for anything from a really intelligent dance remix to the score for Battlestar Galactica or a billion other movies... Just awesome inspiring kick-ass sounds!!
Michael McKnight - Veteran Music Director (Bruce Springsteen, U2, Madonna, Lenny Kravitz, Janet Jackson, Earth Wind Fire, and many others)
In a very short time, EVOLVE has become an integral part of my sonic palette. It's at the top of my Go To list.
Teddy Castilluci - Veteran film composer (Wild Hogs, Anger Management, The Wedding Singer and many others)
Heavyocity is the first library I have purchased that seems completely focused on the sounds I need for many of my scoring projects. This is money well spent in my opinion.
Danny Lux - Veteran Television Composer (Grey's Anatomy, My Name Is Earl, Boston Legal, Ally McBeal and many others)
My first impressions when using EVOLVE and listening back to a mix was just how good and 3-D the sound was. It works flawlessly and is inspiring. It is detailed and clear. Even for the Tweaker there are many things you can do. It may be the best sounding plugin sonically I have heard.
Craig Sharmat - Veteran film and TV composer (Scoredog Music)
The sounds are awesome and sick! It's very inspiring, and makes you want to make music.
Shawn Grove - Producer and Engineer (Collective Soul, Sevendust)
EVOLVE instrument features:
• POWERFUL Cinematic Rhythms •
(600+ beat-sliced rhythmic and tonal loops strategically key-mapped into 7 genre-specific suites, and 60 sequenced and arpeggiated percussive and tonal instruments)
• MASSIVE Percussive Hits Kits •
(75+ modern percussion kits that compliment EVOLVE's loop suites and bring impact to your music)
• OTHER-WORLDY Stings Transitions •
(Hundreds of sting and transitional elements to heighten drama and bridge compositional moments)
• EVOCATIVE Tonalities Effects •
(250+ tonal instruments and FX to lend mood and melody to any track)
• Tweaked kits and loops, ambient pads in 5.1 surround - Envelope Seq folder with tempo-synced presets using Kontakt 2 and Kontakt 3's versatile Flex Envelope Modulator
• 3 custom scripted interfaces •
(Powerful user control features and intuitive key-mapping systems inspire creativity and enhance workflow)
• Nearly 6 gigabytes containing 3,900+ 24/16 bit samples •
**ALL Demos on this site have been produced exclusively using EVOLVE instruments and nothing else!**
Technical Specifications:
Powered by NI Kontakt 2 Player Engine
- AU, VST, DXI, RTAS, Standalone
Minimum System Requirements:
- Mac G4 1.4gHz, OS 10.4.x, 512 MB RAM, DVD Drive
- PC Windows XP SP2 or Vista, 1.4gHz, 512 MB RAM, DVD Drive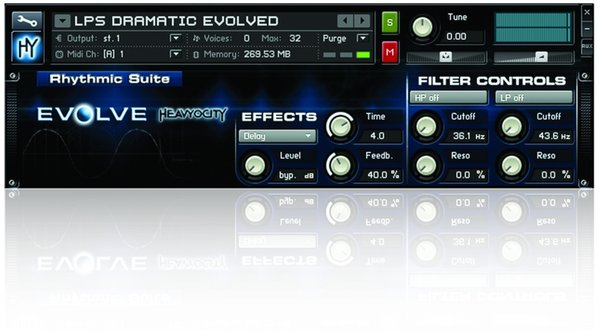 ·上一书籍:
封面女郎
·下一书籍:
志庵