您的位置: 联合资源分享 → 软件 → 多媒体类 → 软件信息
SmartSound音乐编辑软件
简介:
[安全检测]
已通过安全检测
安全检测软体:NOD32防毒系统
版本:2.7.27
杀毒引擎版本:2349(20070623)
[安装测试]
未经过安装测试
使用者后果自负与本论坛无关
共用伺服器:DonkeyServer No1 ,DonkeyServer No2, DonkeyServer No5
共用服务时间:24:00-8:00
[免责声明]
该下载内容仅限於个人测试学习之用,不得用於商业用途,并且请在下载后24小时内删除。
软体版权归原作者及原软体公司所有,如果你喜欢,请购买正版。
SmartSound Sonicfire Pro 4.5
SmartSound Sonicfire Pro 帮助你从无到有在转瞬间完成完全符合影片长度的配乐,这也是目前唯一一套能使你的影像在这么短时间内达到画龙点睛效果的配乐软件。
特色:
1.自动产生完美的配乐
Sonicfire Pro 是目前音乐编辑软件中,唯一可以自动编修音乐来符合你的需求,其独特的音乐处理方式,使修剪出来的乐曲更顺畅,更容易修改
2.从smartsound的数据库中随意的下载,购买和试听任何音乐素材
特别的技术,让使用者在任何的时间,可以弹性的试听或直接购买后快速下载任何的音乐片段
3.自动的编修任何的音乐文件
比以前更快速更简单的修剪你的音频文件,以拖拉的方式加入你的影片中
4.唯一专为影像工作者设计的音乐软件
对於整个创作配乐的过程来说,没有一套系统能如此快速和精准的达到目标
5.即时的预览你完成的作品
精准的看到你的音乐和影片如何搭配,即时和快速的改变和调整每一段音乐片段
6.可以完全和任何搭配方式来搜寻乐曲
现在你可以更自由的以你想要的方式来精准寻找你要的素材
7.完整的管弦乐素材-非重复性演奏
乐曲为了时间长度作重覆性的演译,通常很浪费时间 sonicfire自动选择乐曲中明显的片段来组合成正确的影片长度
支援 Windows Media 和 QuickTime Video 的影像格式
大量的音乐资料库让你创意无限
smartsound的音乐资料库提供大量免费授权的乐曲和特效 让你自由选择从光碟片或从internet来获得
自由选择以简单或专家级的方式来创造音乐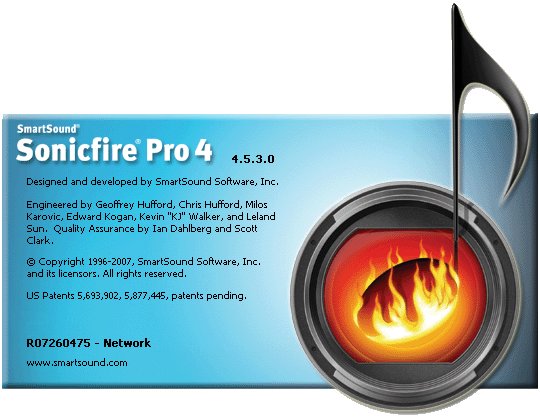 Product Overview
SmartSound Sonicfire Pro 4.5 is the first-ever music solution with Mood Mapping for dynamically matching the mix and feel of music to the changing moods of any production. Built with SmartSound s patented technology, Sonicfire Pro gives visual storytellers unprecedented control and flexibility over their music scores resulting in unlimited creative options right from their video editing workstation.
Product Features
NEW Smart Recall
Most audio formats are only saving the waveform data for a given song. That means when editors need to make a change to the music, they are faced with the challenge of manipulating the waveform with basic audio editing tools. Even with the most expensive tools, it can be impossible to do things like remove an offending instrument from the song. The Solution: Sonicfire Pro 4.5 users can now create and modify Smart Recall .WAV and .AIF files. When you export a SmartSound music track as a .WAV or .AIF file using Smart Recall, important SmartSound information is hidden in a safe area within the file. Don t worry, the integrity of the file remains intact so these files function no differently from any other .WAV or .AIF. When a Smart Recall file is opened by SmartSound Sonicfire Pro 4.5 or Express Track, instead of just showing the waveform data, the Smart Recall data is extracted from the file and your SmartSound program brings you back to the project that originally created that file. This makes it incredibly easy to make quick changes to the length, arrangement and instrument mix of the file. This capability is impossible with any other music library solution.
Multi-Layer Music
In the music library business, SmartSound has leveraged its technology leadership to bring the best music solutions to creative professionals. SmartSound invented the idea of customizable multi-layer music with award-winning Mood Mapping giving intuitive control of up to 8 instrument layers. All new music from SmartSound is in the Multi-Layer format to bring the most creative possibilities to every editor.
Professional Quality Music
SmartSound was founded by professional musicians and composers. All music that gets added to the SmartSound music library is composed by industry leading composers and delivered according to our strict quality standards. In addition to hiring top-notch composers to keep the music coming, they are also making arrangements with award-winning musicians and composers to become a publisher for their music catalog.
Redefining Royalty-Free Music
Are you thinking canned or cheesy when you read royalty-free music ? If so, that s exactly why SmartSounds confidently says that they re redefining royalty-free music . You ll find their music is just as good and sometimes better than the most expensive libraries. As a matter of fact, they re the only ones that offer such incredibly flexible and useful music. So, they d like you think of royalty-free licensing as their way of making your life easier without making any compromises on quality.
Preview with Timeline
When searching the SmartSound music library with Sonicfire Pro 4.5, the Maestro provides a Preview with Timeline option. Since Sonicfire Pro 4.5 can import a reference movie to aid in creating a perfectly fit score, the maestro leverages this feature. When Preview with Timeline is checked, every time you sample a music track, the reference movie will start playing. This simple feature gives you an incredibly convenient way to quickly test the music with your video, saving you time and helping you find the best music.
Cutting to the beat
Whether you re developing animation sequences or cutting picture to the beat of the music, the maestro is there to help. Not only will the maestro help you quickly find the best track to drive your visuals, but it will also tell you the basic editing lengths to keep your visuals in sync with the beat of the music.
Keeping track of tracks
Favorites - When you re first presented with a project and you want to scour the library to find the widest array of options to start with, the Favorites button is helpful. When you find a track that sounds good, just mark it as a favorite and continue your search. When you re done, you can set your scope to Favorites and only your selected tracks will be displayed for you to more easily make your final decisions. User Notes: The User Notes field allows you to type in your own text for each track. You can add a more detailed description or type in the project name every time you use a track, so it will be each to find the answer to What was that track we used for the Smith project last month? Setting your scope to With User Notes narrows your view just to those tracks that you ve annotated.
Choosing your Scope
The Maestro allows you to set the scope of your searches to include the entire SmartSound Music offering, which gets the latest updates via the Internet, or more specific lists based on ownership of music, favorites, annotated tracks, etc. You can first set the scope to the music On My computer and expand the scope to All to hear all the possible options available for your project.
ANY length you say? ?
That s right. Are you still manually editing music from other libraries. Even if you ve gotten pretty good at editing music, you ll be thrilled to know that every SmartSound Music track can be delivered to you at any length with a perfect beginning, middle and ending every time. Need an 8 second bumper, 23 seconds for a promo or you just want a few minutes of the song to play around with? Sonicfire Pro will deliver it to you effortlessly. This is all made possible by their patented music editing technology (US Patent 5,693,902).
No Loops...No MIDI....
When you re putting music in your productions it s best to stay away from compositions built with loops or MIDI instruments. While these elements may be used successfully by some musicians, it s a common sign of a low-budget production to have this type of music. SmartSound is focused on creating music that is of the highest production quality, so their tracks are Loop-free, MIDI-free and dolphin-safe.
Variations
Once you ve decided how long youd like your music track to be, you get a full list of variations. Each variation is a unique musical arrangement of the same song that fits exactly in the time you specified. Instead of trying to rearrange the song yourself, just sit back and listen to the different variations and pick the one that works best with the flow and timing of your scene.
Mood Mapping
Mood Mapping is the most award-winning feature in customizable music. It provides editors with a simple yet powerful interface to advanced music scoring controls for pinpoint customization. Through the use of music keyframes (Mood Markers) and intuitive instrument controls (Moods), Mood Mapping turns any Multi-Layer SmartSound Music into a custom-fit music score. This is totally unique to the industry. With SmartSound s award-winning Mood Mapping feature, you can set musical keyframes that change the sound of the track to be a fit that is unique to your production. So if you re concerned about other people using the same music as you, switching to Mood Mapping will eliminate that concern while giving you a much better fitting music score.
Transitions
The ability to change the music from one Mood to another at any exact point on the timeline is a great feature. The Transition field allows you to determine how long it takes to transition from one mood to the next. Whether it s gradual or abrupt, you can decide what s best.
Under the Hood
Although Mood Mapping has been implemented to maximum ease of use, you can still see that the instruments are all right there. The clever design of Mood Mapping gives you full control over 8 instrument layers without the hassle of volume rubberbanding every track. If you want to use volume rubberbanding, it s right there so you haven t lost any control with Mood Mapping.
System Requirements
Windows:
-Operating System: Microsoft Windows XP SP1 or better
-Processor: Intel 1GHz Pentium processor or equivalent
-Sound: Sound card Speakers
-Optical Drive: DVD Rom drive
-RAM: 256 MB available RAM
-Space: 50 MB hard disk space (minimum)
-Media Players: QuickTime 6.0.1 or newer (7.0 Recommended), Windows Media Player 9 or newer.
Compatible Audio:
-Audio Interchange File Format - AIFF
-MPEG layer 3 - MP3
-SmartSound Audio File - SDS
-SmartSound Audio Package - SSUP
-WAVE form audio format - WAV
Compatible Video:
-Windows: AVI, MOV, MPEG-1, WMV
-Mac: AVI, MOV, MPEG-1, MPEG-4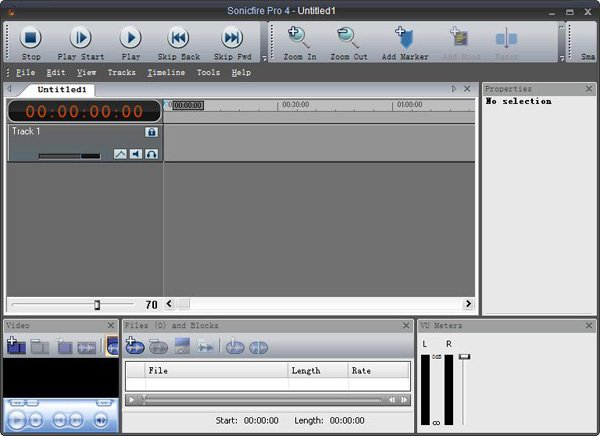 注意:在使用本软体之前,请安装 QuickTime 6 或更高版本
·上一书籍:
Future Rhythm
·下一书籍:
缘来就是你